Mclntosh Mod. C22 – Tube Premplifier

Name: Mclntosh Mod. C22
Type: Tube Preamplifier

Country: USA
Year: 1962
Il preamplificatore stereo Mclntosh Mod. C22 raggruppa tutte le prerogative che contraddistinguono la classe di queste apparecchiature.

Le qualità di fedeltà e di facilità di impiego ne fanno un apparecchio indispensabile per gli amatori della stereofonia. Il pannello frontale illuminato, i comandi razionalmente disposti, e la qualità dell'amplificazione portano questo apparecchio al livello professionale.
http://www.pieffeaudiovideo.com/mcintosh-c22.html
McIntosh Laboratory è il marchio di una ditta statunitense produttrice di prodotti per HiFi, con sede a Binghamton, nello stato di New York. La compagnia venne fondata nel 1949 dall'ingegnere Frank McIntosh………….
http://it.wikipedia.org/wiki/McIntosh_Laboratory
McIntosh Laboratory is an American manufacturer of high-end audio equipment based in Binghamton, New York. The company was founded in 1949 by Frank McIntosh.[1] The "classic" vacuum tube components of the 1960s…..
http://en.wikipedia.org/wiki/McIntosh_Laboratory
Welcome to Roger Russell's McIntosh History Page…….
http://www.roger-russell.com/aboutmc.htm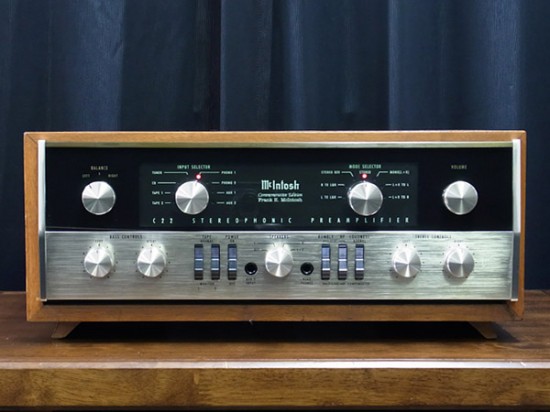 Prima un po 'di storia McIntosh Labs è stata fondata nel 1949 dal compianto Frank McIntosh. Dopo aver trascorso sette anni in Silver Springs Maryland si sono trasferiti in una struttura di recente costruzione a Binghamton, New York, dove rimangono ………
McIntosh Labs was originally founded in 1949 by the late Frank McIntosh. After spending seven years in Silver Springs Maryland they moved to a newly built ………..
http://www.enjoythemusic.com/superioraudio/equipment/0812/mcintosh_mc452_review.htm
McIntosh C22 Stereo tube pre-amplifier………
http://digilander.libero.it/pasqua49/COLLEZIONE%20HI-FI/MC%20INTOSH%20C22/McIntosh%20C22.htm
This McIntosh C22 stereo preamplifier was sent to me by Klipsch forum member Gilbert. Gilbert has owned the preamp for a year, and it had been serviced just two months before he purchased it……
http://www.nosvalves.com/C22.htm
http://audiolab.co.jp/old/used/amp/mcintosh/c22/mcintosh_c22.htm
Youtube link.

http://www.youtube.com/watch?v=K1EpSNyYghw