Marantz PM 84 – integrato
At the center of the PM-84 are AVSS (or Automatic Voltage Shift Supply – two voltage rails, an old idea) and Quarter A circuits to make Class A/B more efficient……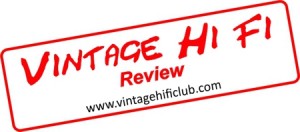 Marantz PM 84
Quotazione: euro 300-450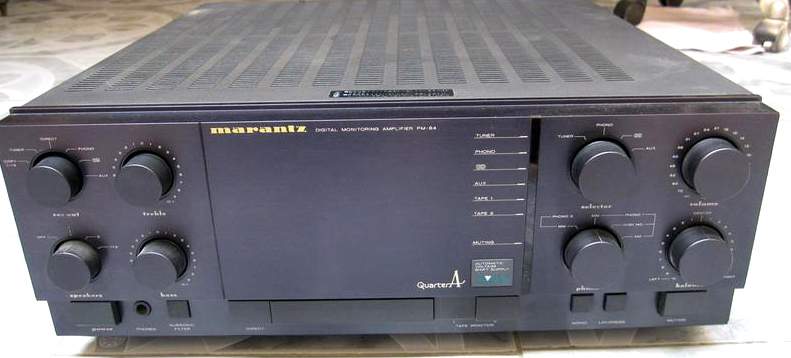 The original 1980s Marantz flagship, launched when the Philips + Marantz production started to make sense and not be a mere rebadging scheme with multiple sources and contradictory ambitions.
At the center of the PM-84 are AVSS (or Automatic Voltage Shift Supply – two voltage rails, an old idea) and Quarter A circuits to make Class A/B more efficient.
The first 60W of the PM-84 are thus in real hot chili pepper Class A : 2x 30W.
– read the TECH1 section for the details !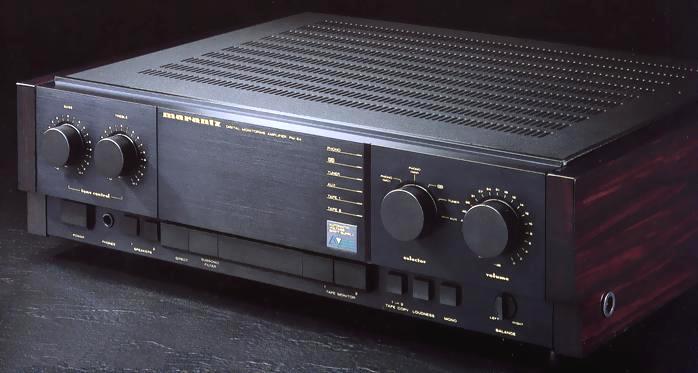 Build-quality is excellent with copper-platedchassis (not diecast, though), FET phono section, an encapsulated transformer and aconductive plastic volume pot. PCB tracks width are varied according to current magnitudes and the MC position is gratified with two positions, normal and high.
The "direct" switch bypasses everything but the volume pot ; the filter caps and power transformer were directly imported from the contemporary Sm-8 power amp.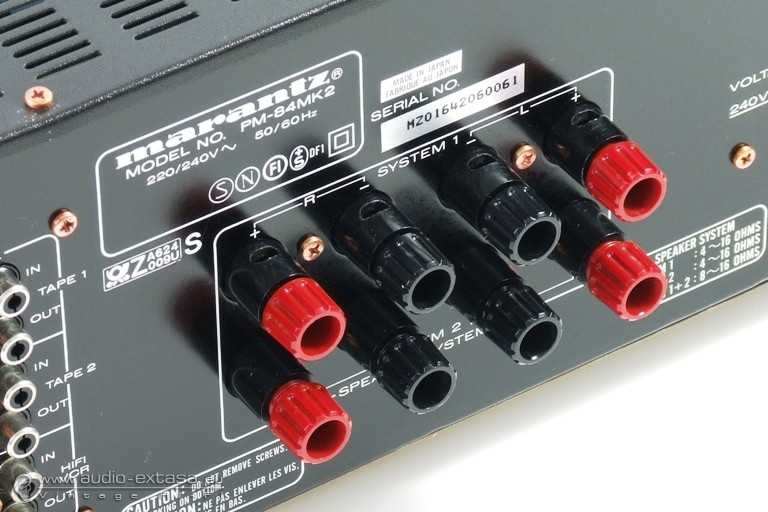 Invisible on most images, the AVSS front badge is backlit in cold green.
The PM-84 was available in black everywhere on the planet and in champagne as well in Europe.
Unlike the later PM-94 (1986), the original PM-84, if raising hotness indeed, did see much less self-destruction cases due to overheating like the PM-94s did.
The PM-84 was updated in 1986/88 (depending on market) as PM-84II or PM-84D with minor layout differences but mostly MOS-FET output transistors inherited from the PM-94.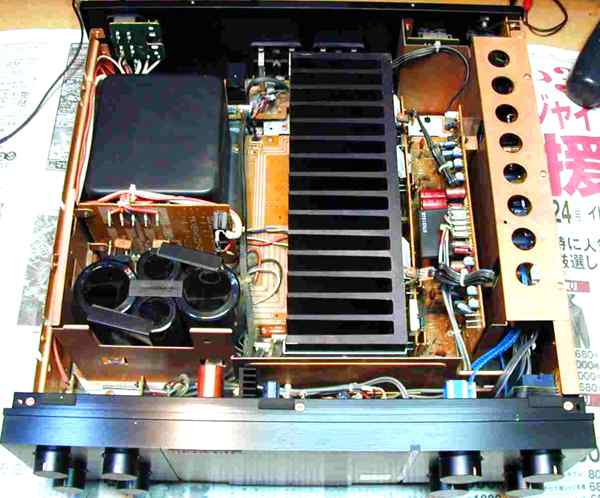 The Integrated Amplifier which carried the technology corresponding to digital one of the Marantz and attained high-quality sound-ization by Quarters A and AVSS.
In order to aim at coexistence of the quality at the time of the Oide power which is not clipped at the time of a high-level, either, and the Koide power which reproduces Loule Bell, a quarter A circuit is developed and it carries in PM-84.
This quarter A circuit has the structure where one fourth of the maximum output operates with a pure Class-A. And with the output beyond it, it shifts to AB class and the high power operation is enabled.
Each operation has realized the smooth shift by controlling a bias current by a high-speed switching circuit.
AVSS (auto voltage shift supply) which shifts output supply voltage according to power is carried. The power element was operated in fewest areas, such as distortion and a noise, with the optimal output supply voltage, and the high quality is realized with all power level from the Koide power to the Oide power.
Moreover, the unnecessary temperature rise at the time of low power is suppressed, and the stability is raised.
The design corresponding to a low impedance is carried out, and power is maintained even if it changes a speaker impedance to a very low value momentarily.
The direct switchpoint is carried and a high SN ratio and high speed signal transmission are made possible more by power hardwired connection.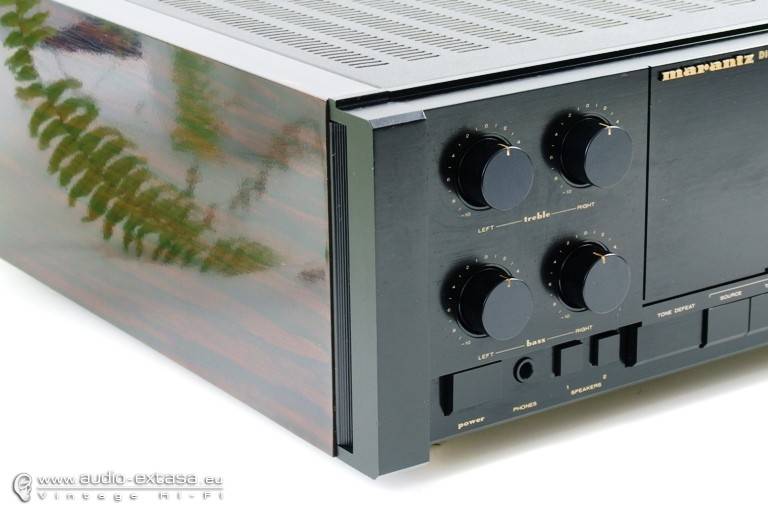 The analog-disk play is supported with constituting Phono amplifier from a Phono customer specific IC and a dual FET.
Moreover, MC input of two positions is carried.
Fundamental part groups including a power-source part are altogether checked severely through a hearing testing, and are exchanging the part of 100 or more points.
A power-source part carries the high regulation large-sized transformer of a separate amplifier class, and the newly developed custom-made electrolytic capacitor, and also in addition to the copper chassis, has the composition of having thought the tone quality as important, such as adoption of the copper screw which attains to two thirds of all the using screws.
Sub- wood was an option.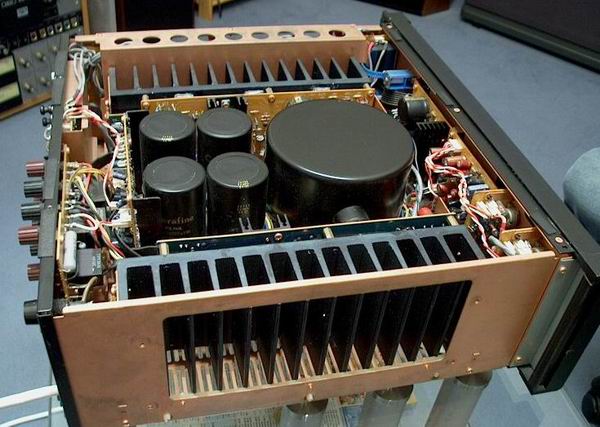 Form
Integrated Amplifier
Output power
120W+120W (AB class, 8 ohms, 20Hz – 20kHz)
30W+30W (a pure Class-A, 8 ohms, 20Hz – 20kHz)
190W+190W (4 ohms, 1kHz)
Output bandwidth (8 ohms, THD 0.03%)
5Hz – 40kHz
THD (20Hz – 20kHz, 8ohms)
0.015%
Cross modulation distortion
0.015%
Frequency characteristic
20Hz-20kHz+0 -0.2 dB
Dumping factor (8ohms)
120
Input sensitivity/impedance
Phono man month: 2.5mV/47kohm
Phono MC: 250 microvolts/100 ohms
Phono High MC: 2.5mV/1kohm
Tape, Tuner, Aux, compact-disk:150mV/47kohm
Output load impedance
Tape out: 270ohms
RIAA deflection
20Hz-20kHz±0.2dB
SN ratio (IHF-A network)
Phono MM:90dB
Phono MC:76dB
Tape, Tuner, Aux, compact disk: 100dB
Phono maximum permissible input
MM:220mV
MC:24mV
Tone control property
Bass: ±10dB (100Hz)
Treble: ±10dB (10kHz)
Subsonic-Filter property
50Hz
Power source
100V, 50/60Hz
Power consumption
290W
Dimensions
Width 416x height 146x depth of 410mm
Weight
18kg
Option
Sub- wood WPM-84 (4,000yen)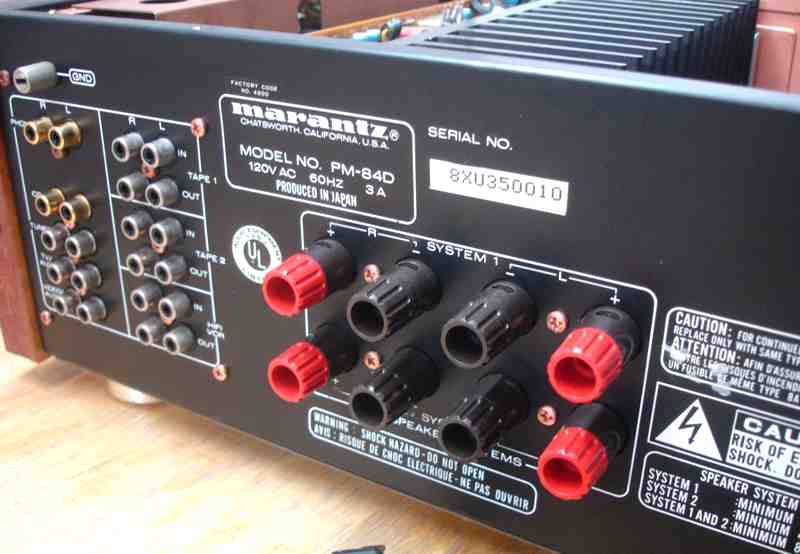 VIDEO
 
http://audio-database.com/MARANTZ/amp/pm-84d-e.html
It is the Integrated Amplifier which attained high-quality sound-ization of compact disk based on PM-84.
In PM-84D, MOS FET is carried in the output stage.
MOS FET has the outstanding switching characteristic, a distorted property, and a heat characteristic, and has a property ideal as a power amplification element. The parallel push pull stream composition by this MOS FET is adopted, and MOS FET of both eight channel is adopted…………….