Kenwood L 07D Turntable Set complete with Tonearm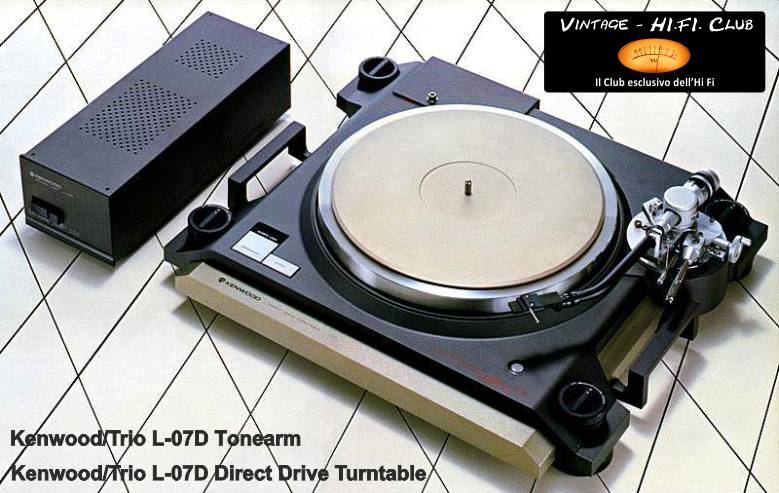 Kenwood L 07D Turntable Set complete with Tonearm
Kenwood/Trio L-07D tonearm
Kenwood/Trio L-07D Direct Drive Turntable
Country: Japan
Year:  1979 to 1984
The tonearm base is a massive 3 kg structure that contains a Vernier-type geared mechanism to adjust Vertical Tracking Angle (VTA.) …..see more


Kenwood L 07D Turntable Set complate with Tonearm
Kenwood L 07D Turntable Set complate with Tonearm . Here's a family photo of two Fidelity Research tonearms, the FR-12 and FR64S, together with the Kenwood L-07D tonearm. The latter is the tonearm from the legendary Kenwood L-07D direct drive turntable (with after-market Orsonic headshell).
Used price   EUR 2800-3100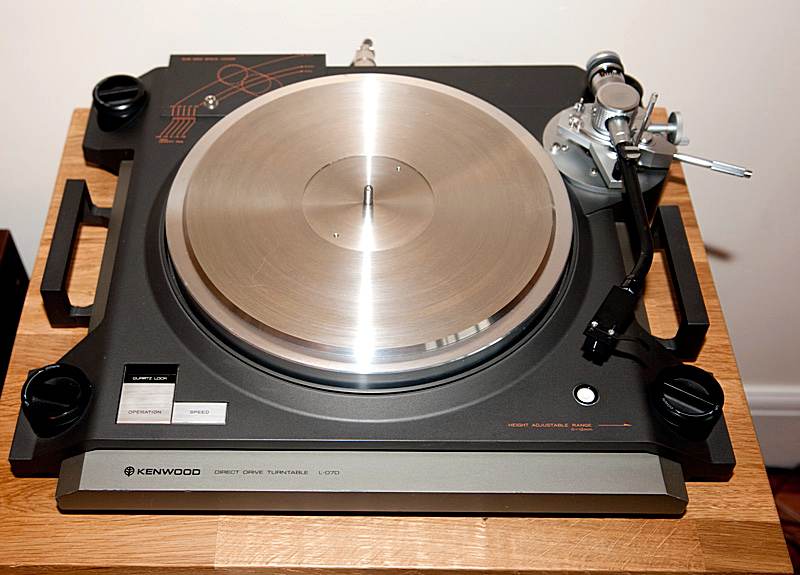 Kenwood/Trio L-07D tonearm
Manufactured from 1979 to 1984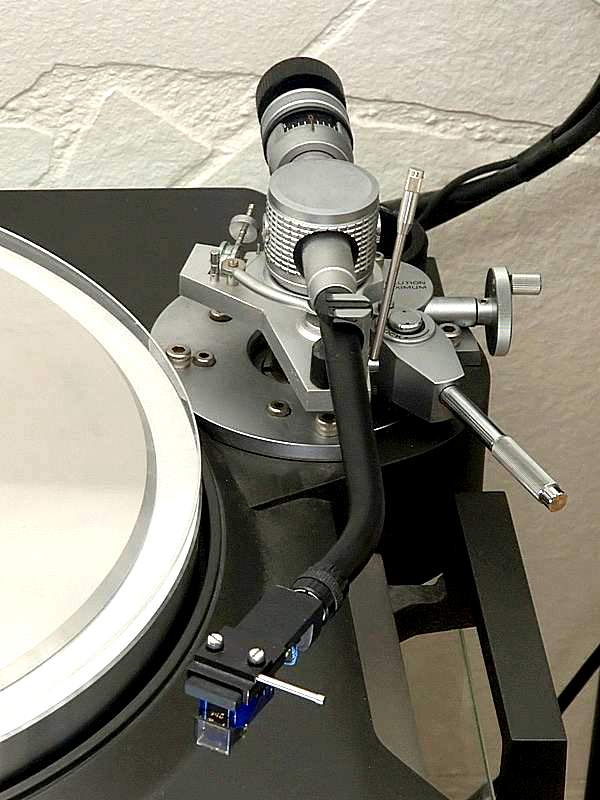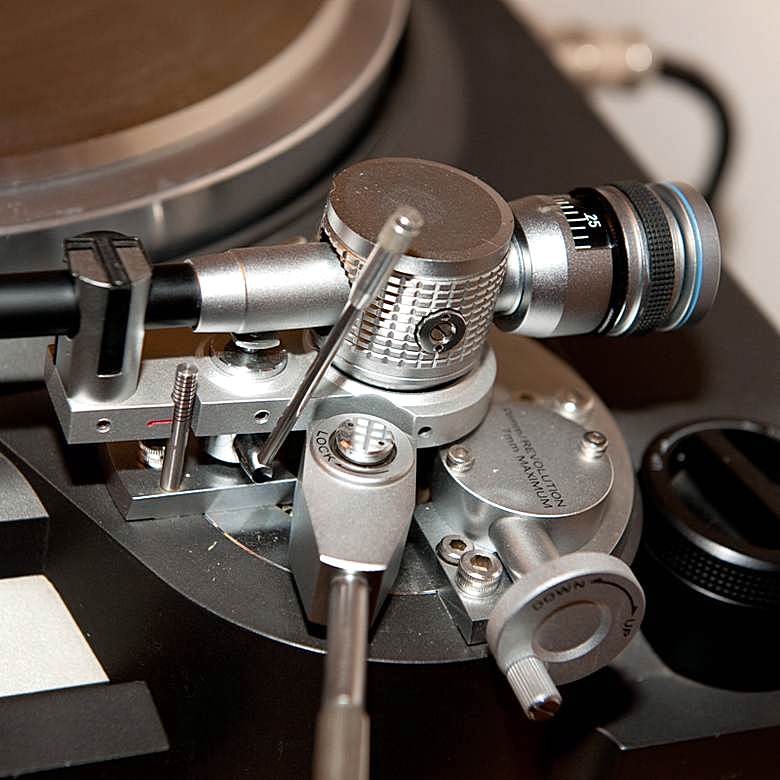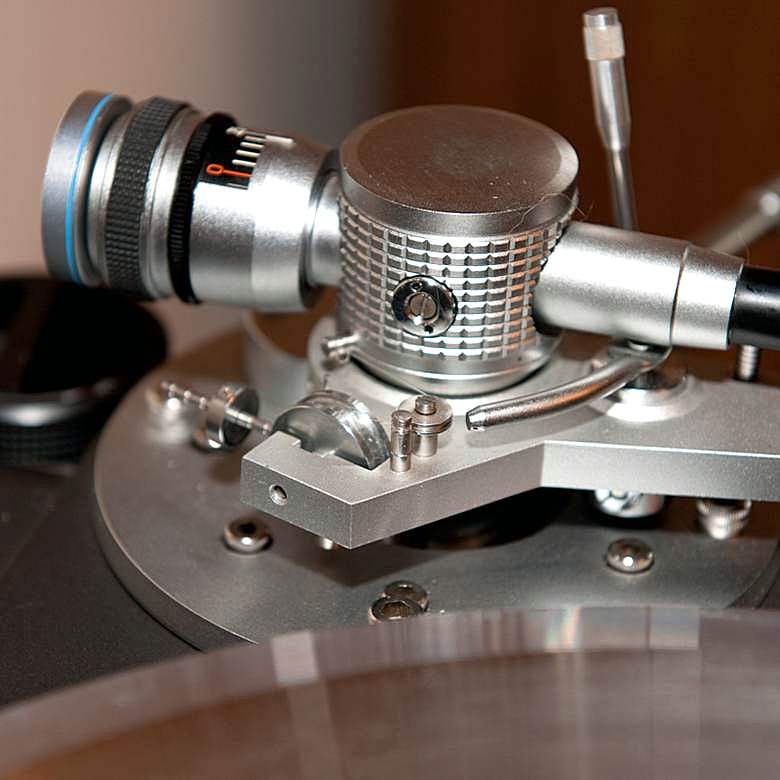 Kenwood/Trio L-07D Direct Drive Turntable
Manufactured from 1979 to 1984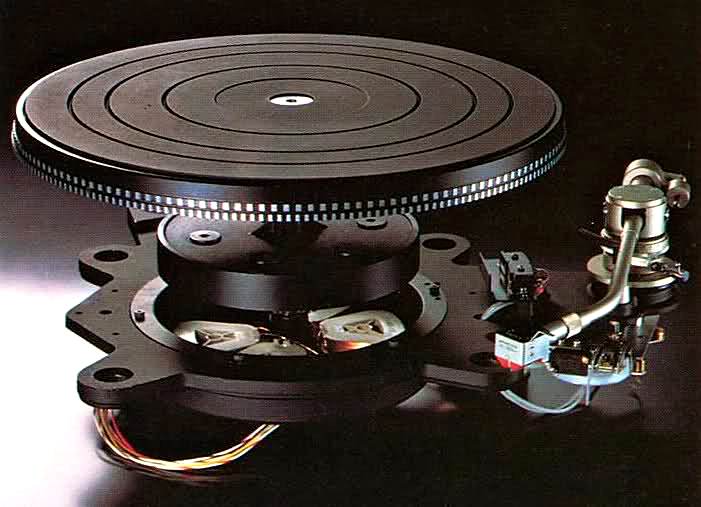 This sought after and legendary turntable is the best I have ever seen.  It is not restored, hasn't ever been repaired and nothing at all is broken……see more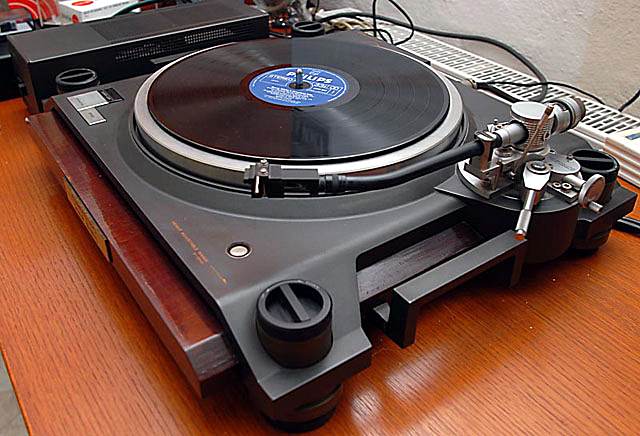 Information on this turntable can be found simply everywhere including http://www.l-07d.com/ and there is an active forum at http://tech.groups.yahoo.com/group/KenwoodL-07D/
There is the odd scratch from normal use and along the very front edge, you could touch these up with a fine paintbrush and some grey paint.  But I like it as it is, original, used and ready to rock and roll!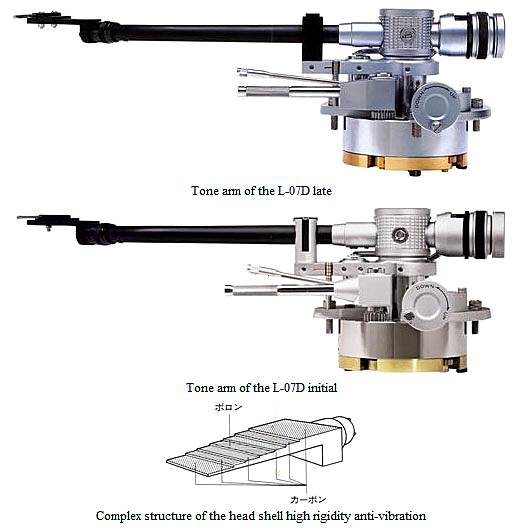 http://www.l-07d.com/tonearm.htm
The tonearm base is a massive 3 kg structure that contains a Vernier-type geared mechanism to adjust Vertical Tracking Angle (VTA.)  A four jaw Collet chuck, similar to the type used on drills, rigidly secures the tonearm to the tonearm base.  The chuck is opened to adjust VTA and locked once VTA is adjusted.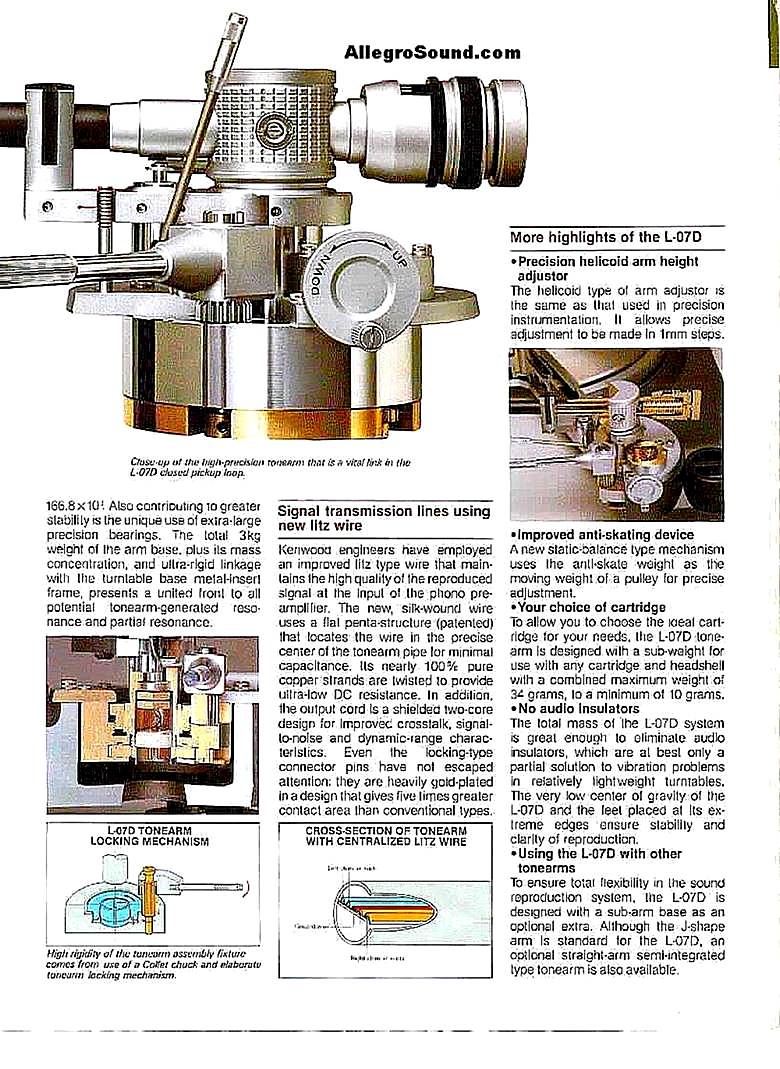 VTA can be adjusted "on-the-fly", while listening to the record.  A calibrated rod and arrow mechanism is used as a reference to record VTA setting.  This is a useful feature when using multiple cartridge/headshell combinations.  The E.I.A. standard headshell collar allows use of any removable headshell with the L-07D tonearm.  The tonearm itself uses resonance-canceling composite design.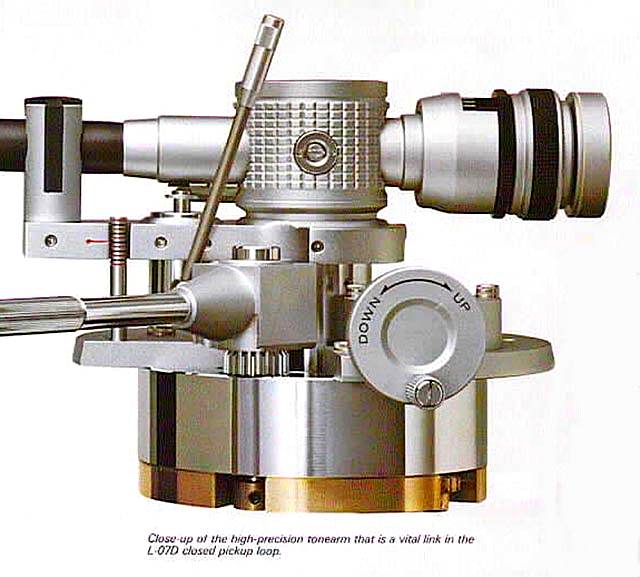 The tonearm tube is made from aluminum covered with layers of carbon and boron.  Tonearm bearings are oversize hardened roller bearings with no play.  The headshell is made from seven layers of carbon and boron.  Litz wiring is used in the tonearm and headshell.  The tonearm cable is massive and has a screw on collar that secures the DIN connector to the tonearm.  RCA male ends are heavily gold plated.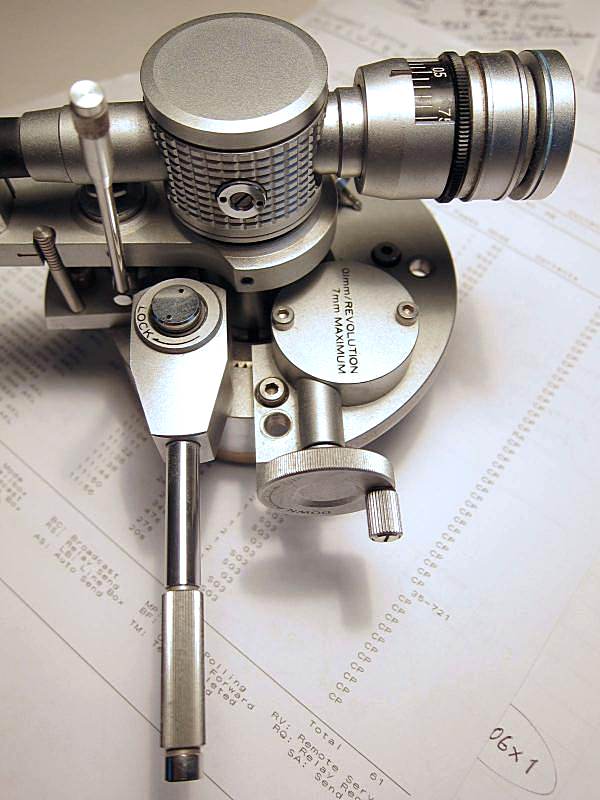 The anti-skate mechanism uses a weight and string mechanism with no springs to wear out.  Tonearm cueing is hydraulically damped.  The tonearm itself is not damped.  Tonearm effective mass is rather high at 17g. and will therefore be better suited to medium (between 10-µ/mN and 20-µ/mN) and low (less than 10-µ/mN) compliance cartridges…..see more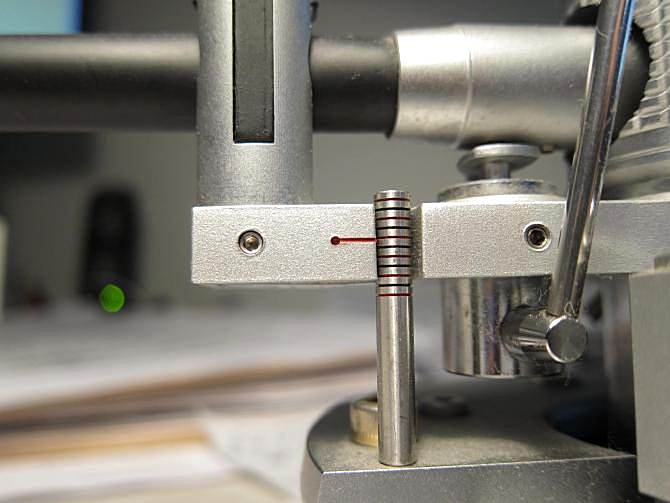 VANTAGEaudio
http://vantageaudio.com/info/l07deck2.htm
information sheet  TRIO-KENWOOD L-07D TURNTABLE
Motor and Turntable:
Drive System – Quartz Pll Direct Drive
Motor – Coreless and slotless DC servo motor
Platter – 13 inch diameter (330mm) aluminum alloy diecast laminated with Duralumin with stainless turntable sheet
Speeds – 33-1/3 and 45 rpm
Wow and flutter – less than 0.02% (WRMS)
Rumble – better than -94dB DIN weighted
Load fluctuation – 0% (within 120g of tracking force0
Transient Load fluctuation – less than 0.00015% (at 33-1/3 rpm, 400Hz, 20g.cm load)
Transient Load fluctuation – less than 0.00008% (at 33-1/3 rpm, 1000Hz, 20g.cm load)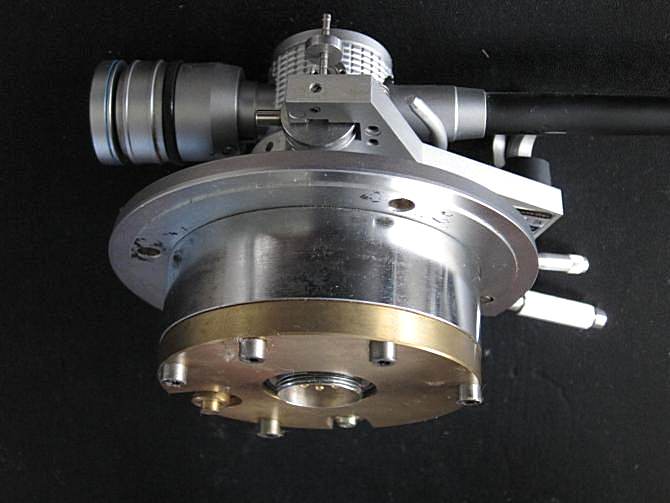 Tonearm:
Type – Static balance type, J-shaped pipe arm, EIA connector
Effective length – 9-5/8 inch (245mm)
Overhang – 9/16 inch (15mm)
Tracking error – +2 deg 26 minutes at 150mm; -1 deg 11 minutes at 85mm; +1 deg 48 minutes at 50mm
Usable cartridge weight – 1 to 9 grams or 9 to 22 grams with supplied weight
Adjustable height range – Within 1/4 inch (7mm) by helicoid fixture (0.1mm steps)
Arm base – Collet chuck type, weight 3.3lbs (1.5Kg)
Headshell – Compression molded carbon and boron fiber, weight 12g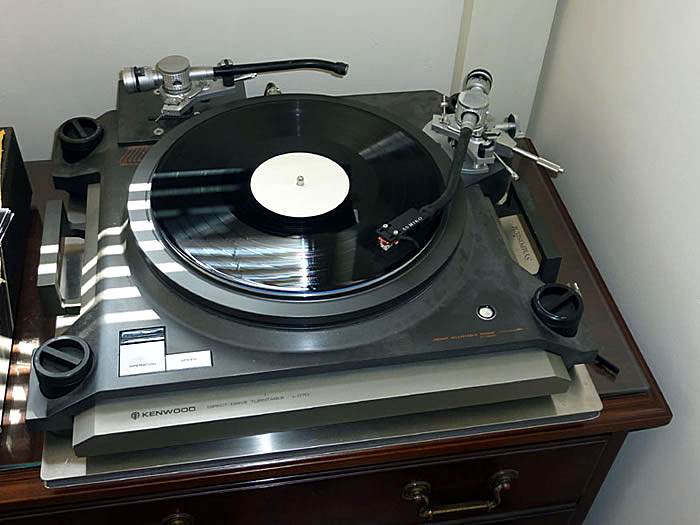 Miscellaneous:
Turntable Dimensions – 21-7/8 x 6-5/8 x 18-1/2 inches (W x H x D)
Control Unit Dimensions – 5-1/8 x 4-11/32 x 14 inches (W x H x D)
Turntable Weight – 68.2lbs (31Kg)
Control Unit Weight – 9-1/2lbs (4.3Kg)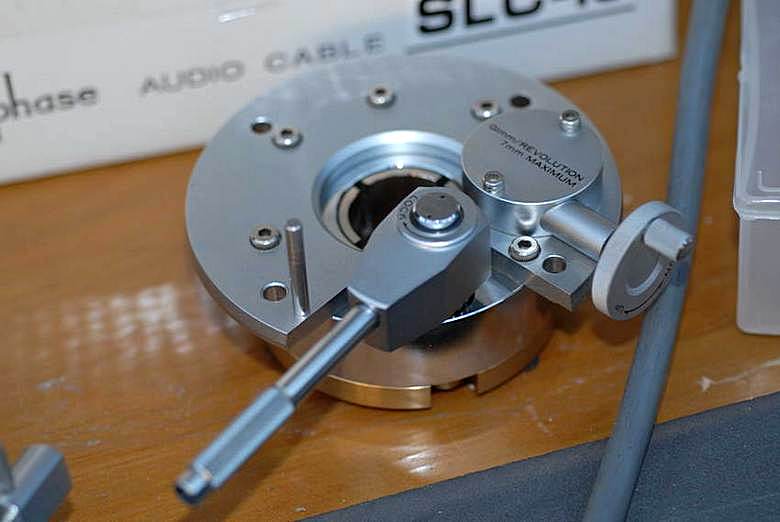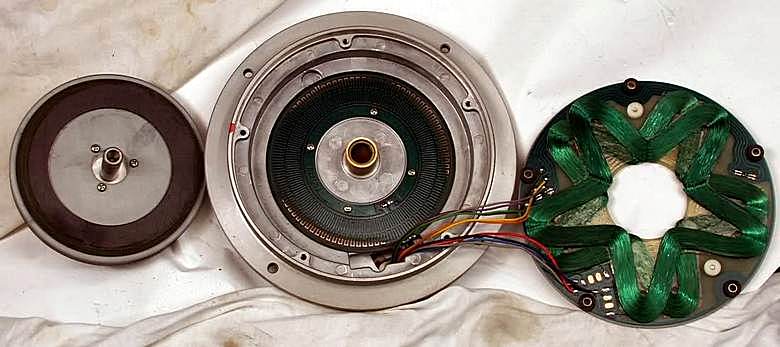 Video