Jeff Rowland Model 9
Poderosi finali americani costruiti nel periodo che va dal 1992 al 2002 in quattro telai: due telai sono deputati all'alimentazione e …..

Reference poweramps consisting of two huge boxes per channel. One box is the amp itself, the other…..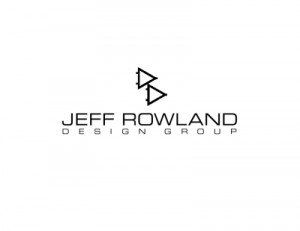 Jeff Rowland Model 9
Quotazioni: euro 8.500/10.000
Poderosi finali americani costruiti nel periodo che va dal 1992 al 2002 in quattro telai: due telai sono deputati all'alimentazione e gli altri due alla sezione amplificatrice vera e propria. La loro bellezza e la particolare realizzazione estetica sono un riferimento per molti costruttori. Il livello qualitativo è altissimo sia nella scelta dei materiali per il cabinet che nella componentistica fino ai risultati sonori raggiunti. L'erogazione di 350 watt per ognuno dei due finali permette di pilotare praticamente qualunque diffusore in commercio, anche grazie all'elevata erogazione di corrente e alla stabilità anche su carichi di impedenza particolarmente ostici. Suono neutro e veloce sono le caratteristiche distintive di queste formidabili macchine.
Bruno Fazzini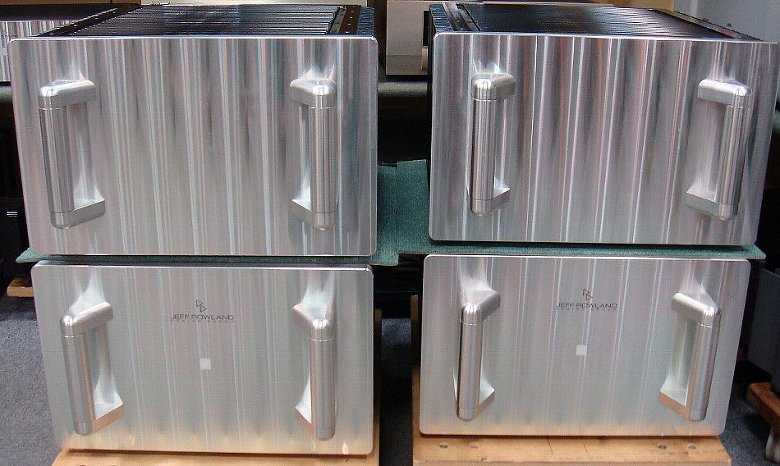 Reference poweramps consisting of two huge boxes per channel. One box is the amp itself, the other is a combination of a BPS and switched power supply that feeds it. Therefore, this BPS was not optional like the others. Unlike what you might think whem looking at them, they don't deliver that much power: 350 watts per channel. That's only 100 watts more than the model 6. They do draw more current though: 500 watts idle per channel and 1200 watts maximum. That's per channel!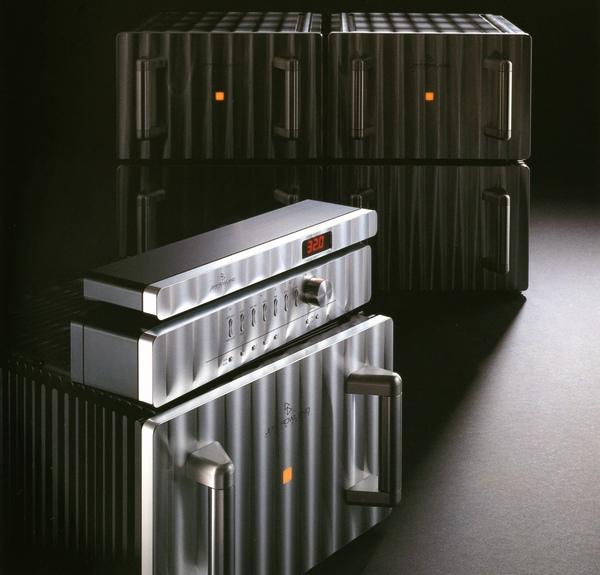 Even though these amps reportedly sounded amazing; both delicate and refined as well as powerful and colourful, there seemed to be a problem with (a part of) the switched power supply. It has some parts in common with the model 10 that I owned and besides my own model 10's power supply problems, I've heard of and read about a few other occasions where (part of) the switched power supply broke down. I think there may have been a reliability issue in a batch of parts of the power supply but this is not confirmed. Nevertheless, when working, these amps are amongst the very best available. A recent response from a long time user indicates that the model 9 can also be utterly reliable. He has never had a problem in many years of use.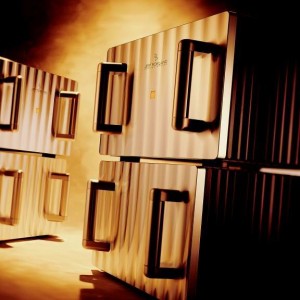 Jeff Rowland is more than just the designer of the world's best amplifiers. He is the personification of all that is good about high-end audio. Likewise, his amps and preamps are not merely the product of a tiny company in Colorado — they embody the loftiest ideals, the grandest passions, and the sheer magic of the high end.
Before you meet the man, meet what he makes. The Jeff Rowland Design Group's Model 9 power amplifier has a 3/4-inch-thick faceplate of solid aluminum, the kind used for aircraft hulls. Its chassis, including the heat-dispersing fins whose variable width give the sides a curious undulating feeling, is machine-carved out of solid aluminum.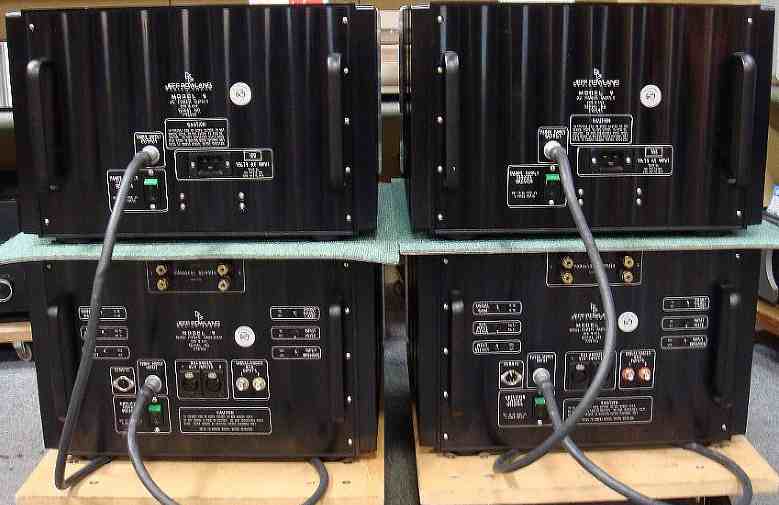 The 90-pound amp sits atop a 135-pound replica of itself. That's the power supply that feeds it. Since this flagship of Rowland's amplifer line is mono, it takes two Model 9s, a total of four massive metal boxes, to feed a stereo system. The speakers in such a system might be about as tall as Jeff Rowland himself.
He's six-eight, beanpole-thin, a bit like the young James Stewart but less scrappy, more contemplative. "I'm getting more into sculpture," he says. "There's something about a machined piece of metal, as opposed to a bent piece of metal, that has an intrinsic quality to it. That's important to me because I feel I have to build art.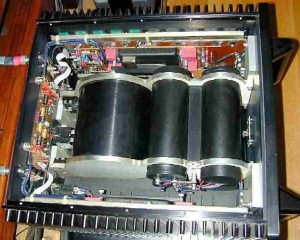 "I design basically for myself. I'm not concerned if something's going to be accepted by the market or not. I know that if it thrills me inside, then it will thrill someone else." Unrealistic? Hardly. Rowland has thrilled audiophiles all over the world by making amplifiers, preamplifiers, and nothing but. President and resident designer of the Jeff Rowland Design Group, he brings the focused attention of a tightrope walker and the zeal of a scholar to the art of amplifying a tiny stream of electricity into something that can fill a room.
Unlike some high-end designers, he's less interested in pouring out new products or making something "affordable" than in meditating on the geometry of wire, the surfaces of connections, the aural properties of different solder formulations. He thinks, he says, "in parts per million." This intense introspection does not get in the way of Rowland's business strategy. It is his business strategy.
"I like to grant everybody the freedom to make their own decision," he says. "It's a different marketing philosophy but it works. If I build a quality product, people will recognize that and buy into my dream. 'Cause I'm just building my dream."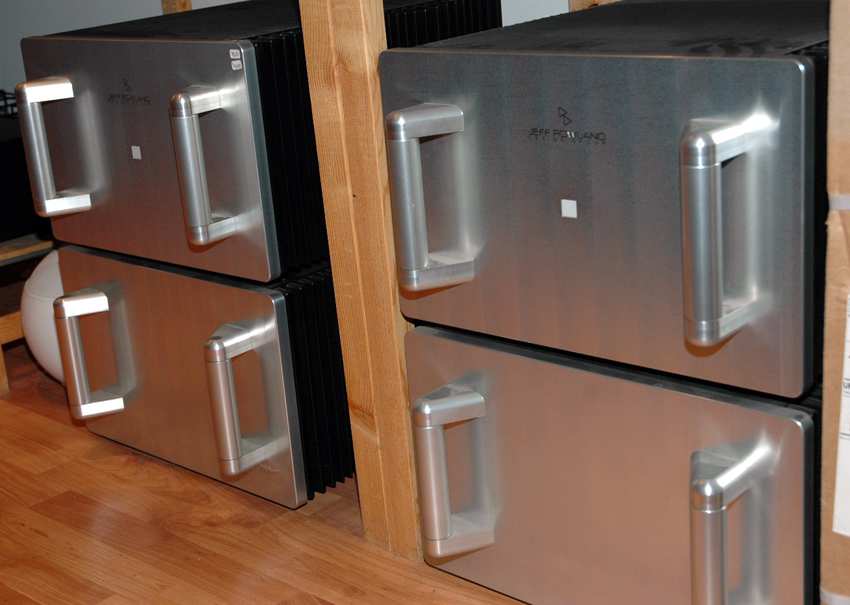 Jeff Rowland's dream started 42 years ago in Black Forest, Colorado. "As a kid, I was never satisfied with turning on a switch and a light comes on. I was always asking why. I used to go to the junkyard with my father and among the piles of pots and old refrigerators there was an area where they would sort out old TVs and radios. I could take home an old radio for 50 cents and try to resurrect it, take it apart, understand how it worked. My room was my laboratory. With no technical training, I was shockin' myself a lot." Having spent time with Models 9, 8, and 2 as well as my treasured Model 1, I can attest that Rowland amps have a consistent signature. What's immediately noticeable is the total lack of noise. Human voices, steel-stringed acoustic guitars, violins, and other high-pitched instruments sound clean and natural, not hardened by subliminal distortion. This lack of glare invites an intimacy that comes only with the best high-end amplifiers, pulling the listener into the music. Whether it's Nirvana or Brahms, the effect is the same. You like what you hear. You want to hear more of it. You turn it up. You turn it up again.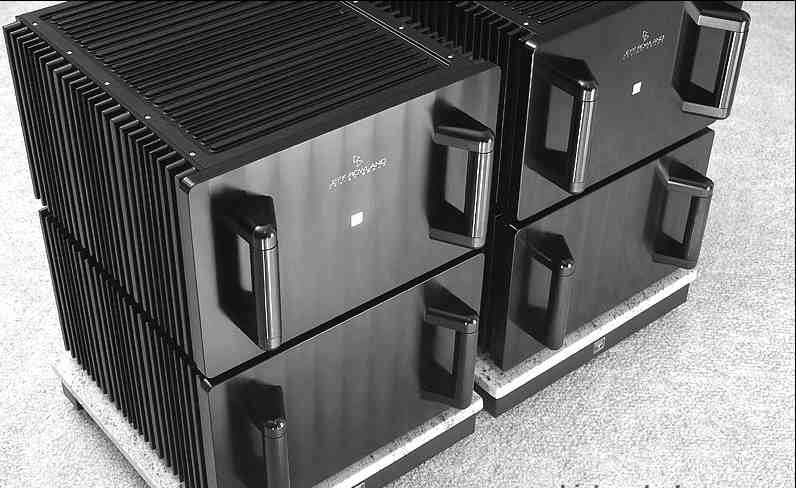 "I don't want people to passively listen to music," Rowland says. "Music demands involvement. My goal is not to lose that subtle essence of music that draws in the listener. To touch that essence even for a moment can be enough to change your life. It's not uncommon for us to sit in front of the stereo and just cry.
"So your stereo system shouldn't be just a commodity that makes a sound. I don't like disposable products. I want to produce something that will endure the test of time. As long as I live I intend to keep all those units out there operating," cat hair or no cat hair. "I design things so that parts can be replaced economically and easily. The landfills are too full of equipment that fell out of fashion."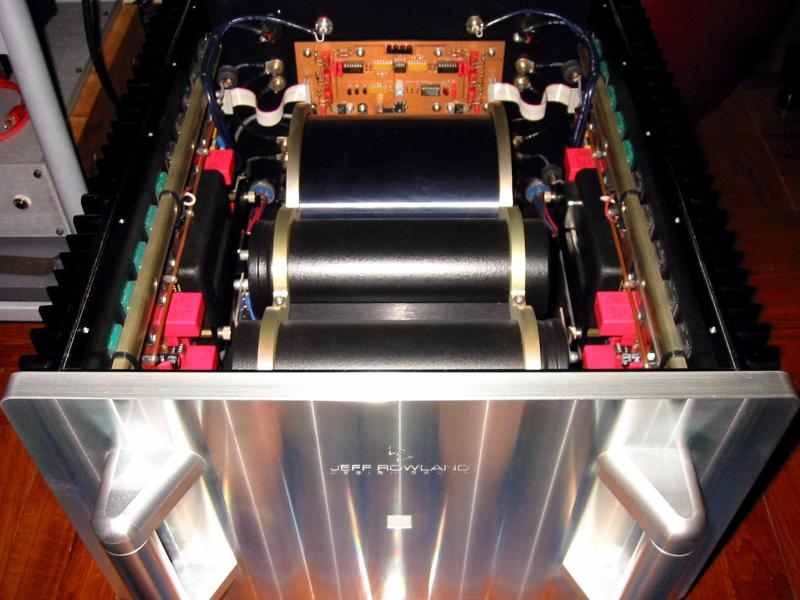 Specifications
OUTPUT POWER
CONTINUOUS RMS WATTS
@ 8 OHMS
@ 4 OHMS
350 WATTS
700 WATTS
BANDWIDTH
0.1 Hz to 160 kHz, -3 dB
SLEW RATE
30 volts per microsecond
THD AND NOISE
less than 0.06% at rated power
DAMPING FACTOR
greater than 300, 20 Hz to 20 kHz, 8 ohms
OUTPUT CURRENT
70 amps continuous, 140 amps peak
OVERALL GAIN & SENSITIVITY
(1 WATT, 8 OHMS)
user selectable on back panel
26 dB or 32 dB; 141 mV or 71 mV
INPUT IMPEDANCE
BALANCED
UNBALANCED
user selectable on back panel
36k or 600 ohms
36k or 600 ohms
COMMON MODE REJECTION RATIO
greater than 60 dB, 20 Hz to 20 kHz
ABSOLUTE PHASE
user selectable on back panel
normal or phase-inverted
INPUT MUTE
user selectable on back panel
POWER CONSUMPTION
(PER CHANNEL)
50 watts standby; 500 watts operating, idle;
1200 watts maximum
INPUTS
BALANCED
UNBALANCED
user selectable on back panel
2 per channel (XLR)
2 per channel (RCA)
OUTPUTS
2 pair binding posts per channel
DIMENSIONS
POWER SUPPLYAMPLIFIER
17.5 in (W) x 22.0 in (D) x 11.4 in (H)
44.5 cm (W) x 56.0 cm (D) x 28.5 cm (H)
17.5 in (W) x 22.0 in (D) x 11.4 in (H)
44.5 cm (W) x 56.0 cm (D) x 28.5 cm (H)
WEIGHT (PER CHANNEL)
POWER SUPPLY
AMPLIFIER
128 lbs. (58 Kg)
92 lbs. (42 Kg)