GRYPHON KALLIOPE – D/A Converter – News


For price and more…. see "Quote"
KALLIOPE (a.k.a. Calliope, meaning "beautiful voice") is the eldest of the Muses, goddesses of music, song and dance in Greek mythology. Kalliope is the goddess of epic poetry and eloquence.
In any audio system, there are certain points along the signal path that are more crucial than others. These are the intersections where the signal is converted from one form of energy into another. Such transformations occur when the needle of a phono cartridge traverses the micro-grooves of a vinyl record, converting kinetic energy into an electrical signal. At the opposite end of the signal path, loudspeakers must transform electrical input into acoustic output.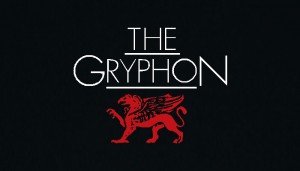 But perhaps the most critical transformation of all is the conversion of the output of digital sources into an analogue signal, ideally without loss or distortion of any kind. Despite the lofty claims of many manufacturers, what is lost or changed at this point can never be recovered or restored.
In acknowledgment of the on-going refinement of digital audio sources and the rapid evolution of high-resolution digital audio formats, Gryphon Audio Designs now presents the Gryphon Kalliope digital to analogue converter to stand as the gateway that conveys the musical signal from one domain to the next in utterly pristine condition.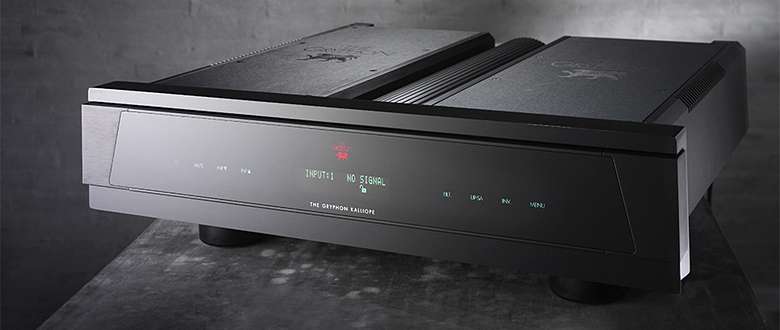 Product features
 Dedicated ESS SABRE ES9018 32-bit D/A converter for each channel
 Each ES9018 incorporates eight individual D/A converters in Dual Differential coupling for optimal performance
 USB input compatible with following audio formats via PC/MAC. PCM: 44.1, 48, 88.2, 96, 176.4, 192, 352.8 and 384 kHz, up to 32 bits. DSD via USB (DoP): 2.822, 3.072, 5.644 and 6.144 MHz
 BNC and XLR inputs compatible with PCM: 22.05, 24, 32, 44.1, 48, 64, 88.2, 96, 176.4 and 192 kHz, up to 24 bits
 User-selectable PCM and DSD digital roll-off filters
 User-selectable asynchronous PCM sample rate conversion
 Temperature-compensated, ultra-low jitter crystal oscillators with better than 5 parts per million accuracy
 12.5 Farad SuperCap powersupply for the Kalliope USB module which acts like a true battery supply
 Balanced 110 Ohm XLR AES/EBU input
 Three single-ended 75 Ohm BNC S/PDIF inputs.
 Balanced 110 Ohm XLR AES/EBU output for de-jittered signal from selected input
 Galvanic isolation of BNC and XLR inputs for minimal jitter
 75 Ohm BNC connector for optional external word clock
 Modular digital audio sections for possible future upgrades
 True Class A, fully discrete analogue circuitry with zero negative feedback
 First-order PCM analogue filters and second-order DSD analogue filters with silvered Mica capacitors
 Analogue output stages with discrete, ultra-low noise +/- 25VDC regulated voltage supplies for best THD and noise suppression
 Discrete, ultra-low noise power supply for analogue section of ES9018 DAC
 Comprehensive noise regulation of all digital circuits
 Custom-built 65 VA toroidal transformer for each analogue channel
 34,000 microFarad power capacitor banks for each analogue channel
 True Dual Mono configuration
 Balanced XLR analogue outputs and single-ended phono outputs
 Ultra-short signal path with minimal internal wiring
 Four-layer 70 mm thick copper trace PCB's
 Personalised naming of each input
 Vacuum Fluorescent Display with variable illumination
 No drivers required for LINUX or MAC OSX
 Driver available for Windows XP/Vista/7/8
 Automatic standby mode with user-selectable interval
 Standby power consumption less than 0.5W in accordance with EU regulations
 12V link in/out
 Infrared remote control
 EU CE approval
 Designed and built in Denmark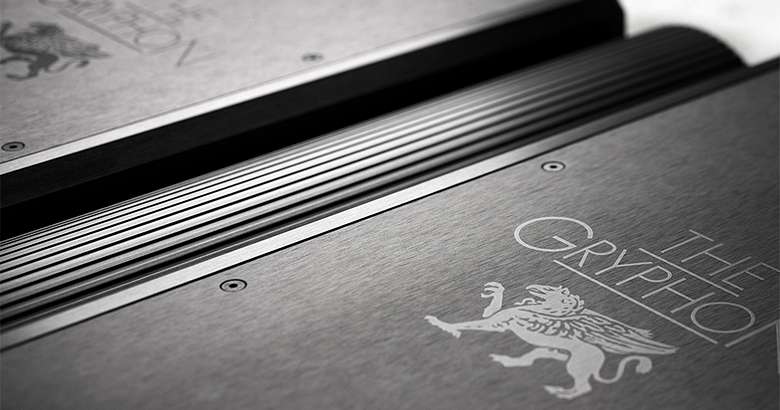 Three Reasons Why Bits Are Not Just Bits
The well-worn phrase "Bits is bits" encapsulates the widespread misconception that any reasonably constructed digital system will result in "Pure, Perfect Sound Forever," in the lamentable promotional slogan coined by the inventors of the compact disc…. 
See More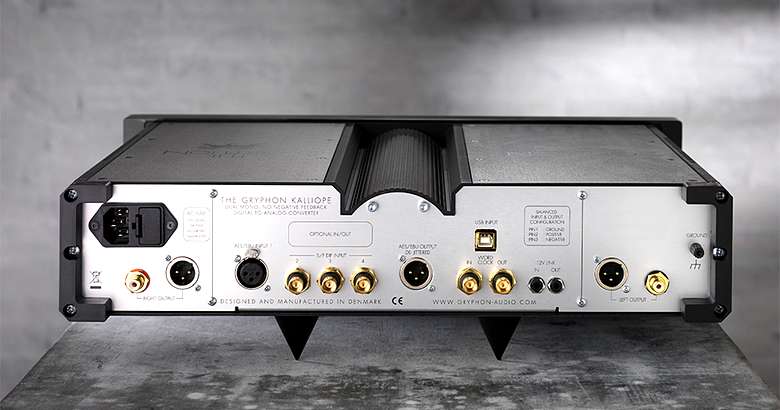 Digital Pioneers
Kalliope is far from Gryphon's first foray into the digital arena. Throughout the digital era, Gryphon Audio Designs have stood for major innovations, paving the way for others to follow…. 
See More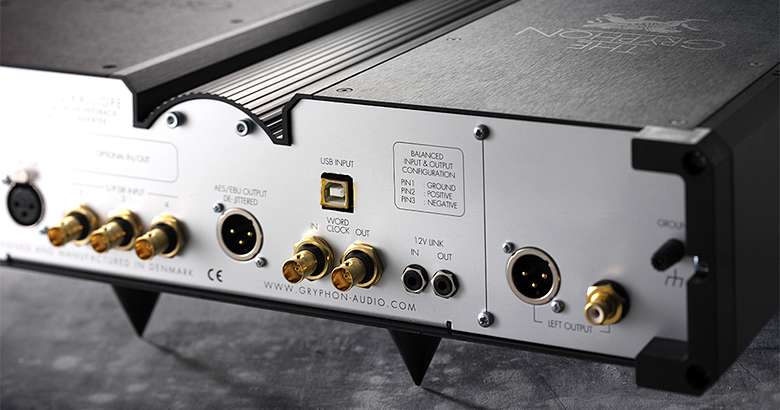 Stability and Control
Gryphon Kalliope reaps the full benefits of Gryphon's uncompromising design philosophy, including strict dual mono configuration, minimal internal wiring, fully isolated separate power supplies for analogue, digital and control/display circuitry and exclusive, custom components such as precision crystal oscillators and toroidal transformers….
See More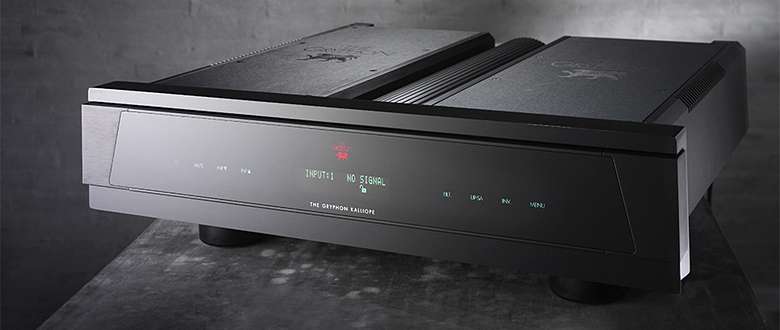 Direct Stream Digital
In addition to PCM sources all the way up to 32 bits and 384 kHz sampling frequency, Gryphon Kalliope is among the select few digital to analogue converters that is fully compatible with the DSD (Direct Stream Digital) audio format…. 
See More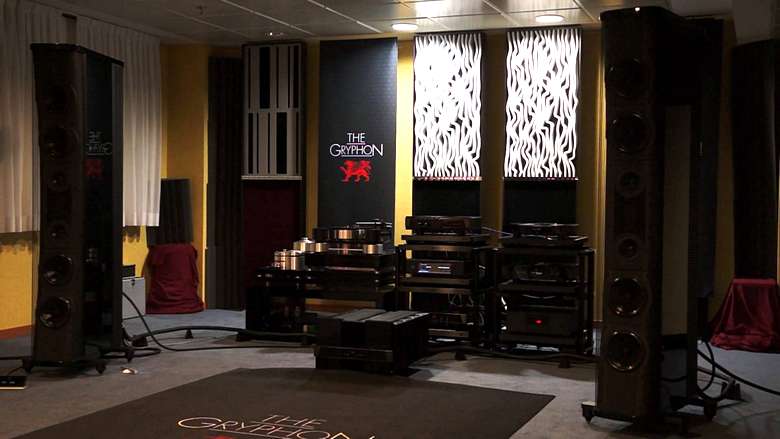 User Interface
For convenience and intuitive ease of use, Gryphon Kalliope's functions can be accessed via remote control or soft-touch buttons on the front panel: On/Standby, Mute On/Off, Input Selection, Digital Filter selection, Sample Rate Conversion On/Off, Phase +/-. The remote also includes adjustment of display brightness (100%, 75%, 50%, 25%, Off)…. 
See More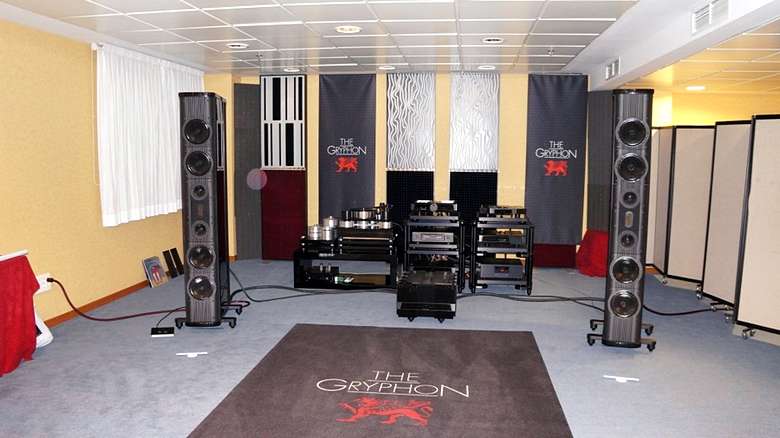 Well Connected
In addition to carefully executed, galvanically isolated digital inputs (three 75 Ohm BNC and one 110 Ohm XLR) to minimise jitter and noise, Gryphon Kalliope is also fitted with a 110 Ohm XLR digital output which makes the de-jittered signal from the selected input available to other equipment.
Gryphon Kalliope eliminates phono plug S/PDIF connections, because the BNC connector is the only way to ensure a true 75 Ohm impedance for optimal data transfer.
For increasingly popular computer music sources, Gryphon Kalliope incorporates a state of the art, bit-perfect, asynchronous and galvanically isolated USB input, capable of full 32-bit/384 kHz data transmission. Because Kalliope is a native Class Two USB device, simple installation of appropriate drivers is necessary for PC users. Drivers are pre-installed on Macs…. 
See More