Quotazioni Usato e Vintage – Second Hand and Vintage Quotes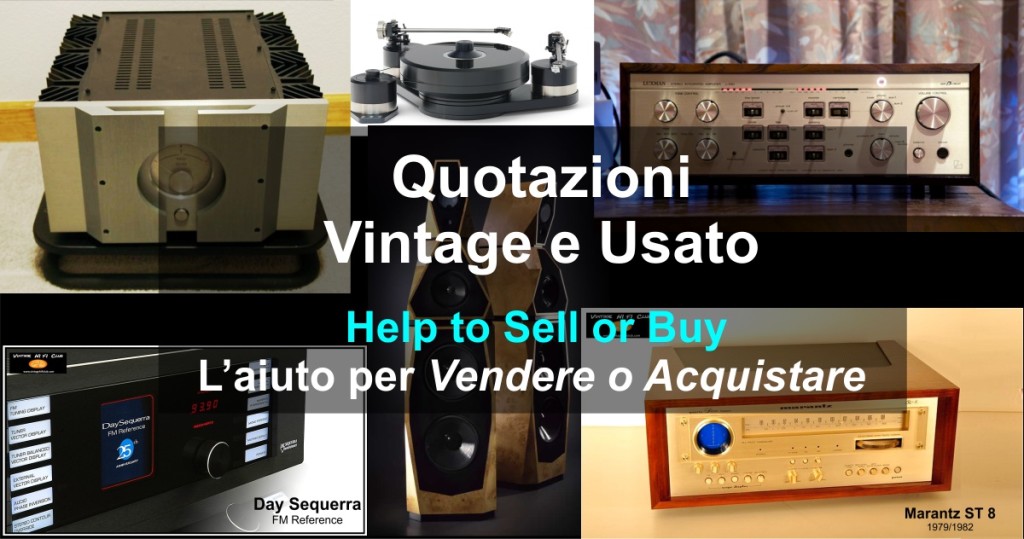 Quotazioni Usato e Vintage
Second Hand and Vintage Quotes
Per "acquistare" o "vendere" qualunque prodotto, cioè fare "affari",  bisogna conoscere il valore dell'oggetto da trattare.
Le "Quotazioni Usato e Vintage" sono un aiuto per avere informazioni  su quanto vale un prodotto.
Il Vintage Hi Fi Club mette a disposizione di tutti gli appassionati una lista di quotazioni  con foto e link, sia a prove (Equipment Review) o a schede con notizie sui prodotti (Quick Info).
Inoltre su AnnuarioAudio sono disponibili ulteriori approfondimenti. Di seguito, troverete il link per accedere direttamente a queste pagine e ricevere le informazioni necessarie.
Buon divertimento a tutti
To buy or  to sell any Hi Fi product it's necessary to know its value.
"Second-hand and Vintage Quotes" are a help to get information on the value of HiFi component.
The Vintage Hi Fi Club provides all the audio vintage enthusiasts a list of quotes with photos and link, both as reviews (Equipment Review) and as detailed descriptions containing information about the inserted products (Quick Info).
Moreover, in Audio Yearbook more in-depth analysis are available. Below you will find the link to enter directly into these pages and receive the necessary information.
Have a good time!
                Vintage Hi Fi Club

Elenco in ordine alfabetico / Alphabetical list
———————————————–
F
H
———————————————–
I
K
L
———————————————–
N
O
———————————————–
Q
———————————————–
U
X
———————————————–
Y
Per Unteriori informazioni consultare anche:

Quotazioni dei prodotti hi-fi Vintage – Indice
RICHIEDERE MAGGIORI INFORMAZIONI: